Every month or so, our Founder and Editor, Aly B., sends a recap of the products she's loving to our subscribers – ranging from toys (of course!), to clothing, beauty, tech, home decor, food, wellness and more. She gives an indepth overview of the item, and explains why she's chosen it as a "Favorite Thing".
We'll be saving all of her finds right here, so bookmark this page and come browse through to get ideas and inspiration, and discover new products that will bring you joy, or help make your life easier.
summer edition
I'm back with another edition of my "Favorite Finds", and this time I'm focusing on all the things I'm swooning over for myself, my kids and the whole family for the summer months.
FOR YOU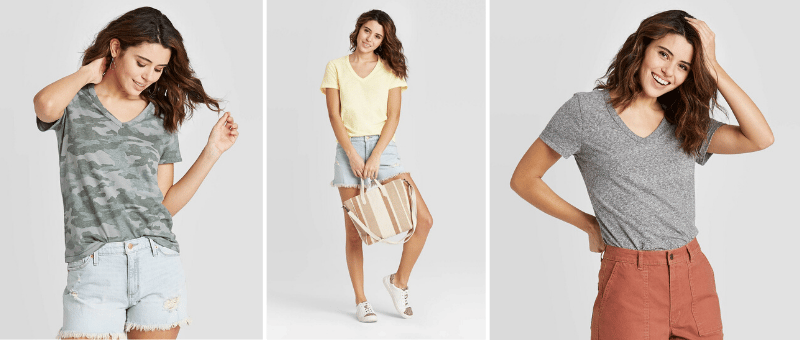 Target Universal Threads V-Neck T-Shirt
I have been searching for the perfect basic v-neck t-shirt for YEARS, and have always had a hard time finding one where the neckline isn't too low (especially with a child constantly on my hip pulling the shirt down, a low V basically means I'll be flashing everyone all day long!).
But this year I finally found it!
This one from Target is the perfect V + a great length for leaving untucked, doing a little tie on one side, or tucking in the front. It comes in so many colors (I have about 10 of them now!), including a few that are heathered (which I can never resist), stripes, tie-dye and camo. (TIP: if the color you want says "out of stock", hit the "notify me when it's back" button…you'll get an alert when it's back, and I've had good luck with this happening within 24-48 hours).
And the best part of all: the price. It's only $8!

Reef Cushion Bounce Flip Flops
Another item I was in dire need of this summer was a new pair of everyday flip flops to replace my Havaianas that I literally wore into the ground. I was looking for ones that were comfortable enough to wear 24/7, would go with every one of my Target tees (see above!), and had a little arch support.
I ordered a zillion pairs from Zappos for an epic try-on, and these ones from Reef were the clear winner.
I've now been wearing them for over 2 months, I can say that they are by-far the BEST flip flops I've ever owned (and I've owned A LOT!). The foot bed is cushioned so they are insanely comfortable and the straps are very soft so they don't dig in or rub.
I got the natural color so they go with any outfit, and because they're not "plastic-y", they look put together. They also come in a ton of other colors – I have my eye on the rose gold ones!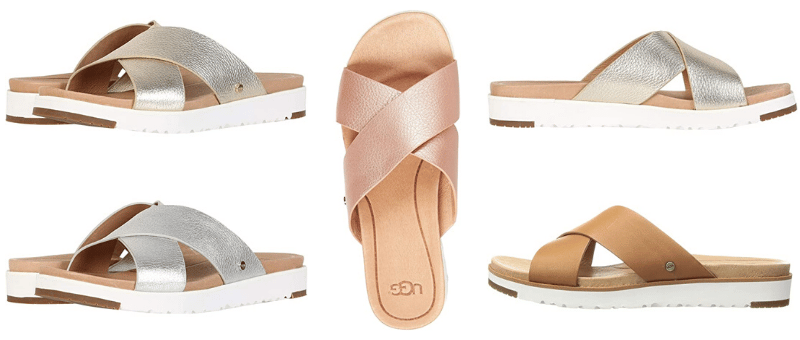 Now if you want an everyday pair of sandals that's just a little bit fancier, but still doesn't compromise on comfort, then the Ugg Kari is a MUST!
I love that they have a little bit of height, but still feel like a pair of flats. The foot bed molds to your foot, and they come in a variety of amazing colors. I have the gold, but there are other neutral metallics and natural leathers to chose from. I get compliments on them all the time!
If you love your Ugg winter boots…these are the next best thing for the summer!
FOR YOUR KIDS

We don't do a ton of screen time during the summer – we try to stay consistent with what we allow during the school year, so my kids get an hour or two on the weekends. But we do have a few exceptions: rainy days, and Reading Eggs!
Reading Eggs is an award-winning reading app that has been a complete game-changer with my 5-year old, and extremely helpful for encouraging my 7 and 9-year olds to read and gain comprehension skills as well.
I started using Reading Eggs during our COVID homeschool period as a way to keep my Pre-K daughter on track for entering kindergarten. I have been blown away by her progress – she went from just being able to identify some letters, to knowing them all + their sounds + actually READING!
The app is super interactive and uses fun characters, songs and rewards to keep kids motivated – they earn golden eggs which they can use to buy items for their avatar or house. My daughter is obsessed with the eggs, and happily completes her "lessons" to advance.
I just can't believe how quickly she has progressed using this program, and how her confidence has just soared as a result.
I've always thought that I should be the one teaching her these skills – but the truth is that she'll sit with me for 5 minutes (or less!), but will sit engaged with Reading Eggs for 30 minutes+++.
My big kids use it as well (it's made for kids aged 2-13), and it has over 2000 online books for them to explore + my favorite thing…it comes with a comprehension quiz that makes sure they actually understood what they just read – HUGE!
I'm able to get detailed progress reports and I also used Reading Eggs' downloadable activity sheets that correspond with the lessons in the app as part of our remote learning.
It is one of the best learning apps/programs my kids have ever used, and I am so glad I found it to keep up their reading over the summer.
And not knowing what will happen with the upcoming school year, I feel confident that I can keep them growing their reading skills whether they are physically at school or not.

SPECIAL OFFER: I reached out to Reading Eggs and they are giving What Moms Love subscribers a FREE 30-day trial to their complete program (which also includes their Math Seeds) with this link!

If you're looking for a new active outdoor "toy" to get your kids outside this summer, the EzyRoller is perfect for all age groups, is super simple to learn, and is pure fun!
I got my 5-year daughter the classic for her birthday – my older kids were learning roller-blades and skateboards and she felt left out, but she wasn't quite ready for those.
The EzyRoller was the perfect compromise – she picked it up right away, and just by pushing your feet back and fourth, you can move it forward and easily make sharp turns. There is a simple hand brake, and you can get some really good speed.
Even my big kids were clamouring to get on, and now they want to use it ALL the time too! I even put my 2-year old on my lap and take it for a ride…it is such joy!
The EzyRoller Classic will fit 4-year olds to 9 or 10 (although I'm pretty sure a 3-year old could work it just fine), but there is a "Mini" size for ages 2-4, then the next level up is the Drifter X for ages 6-14.
Your kids will be outside all of summer vacation happily gliding along!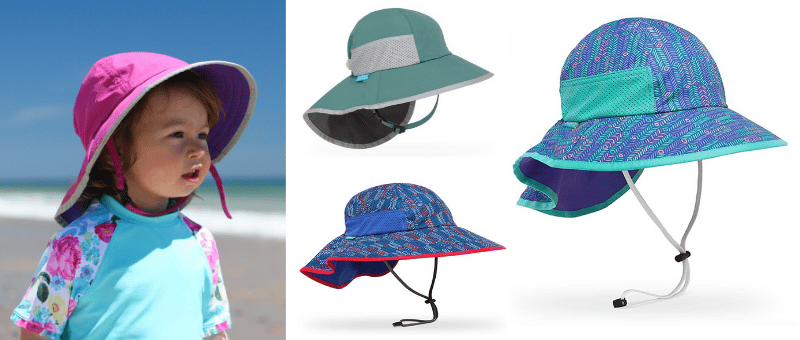 Sunday Afternoon Kids' Play Hat
I've used this hat with all 4 of my kids, and I have lost count of the number of moms that have come up to me asking where it's from – it's just such a smart option to keep your kids' tender little faces (and necks!) out of the sun.
It offers UPF 50+ with a large foam-based brim that won't flop in their face, and it even floats if it happens to come off while swimming. The back veil protects their neck from the sun, but also lays flat against their head for comfy stroller rides.
The adjustable band and SmartStrap Breakaway Chinstrap help provide the perfect fit, but the strap will detach with a firm tug to avoid becoming a hazard.
The Play Hat is water repellent and stain resistant, and I've thrown it in the washing machine SO many times + handed them down, and they still look great.
There's mesh side panels to keep your little one cool, and it is so light-weight that they'll even forget it's on.
It's available in lots of fun colors and prints for boys and girls; sizes: infant (XS), baby (S), child (M) and youth (L).
This hat is a must-have for anyone spending a lot of time on the beach or in the pool this summer!

We spend our summers on Cape Cod, steps away from a lake, so through the years I've tried many different types of floatation devices for my kids. I thought I'd found the best thing available with a Puddle Jumper, but that was until my youngest daughter easily removed it herself and proceeded to walk into the pool on vacation.
Luckily I saw her do it and was able to stop her, but it really scared me and sent me on a mission to find another option.
What I discovered was not only a safer option, but the cutest swim device I've ever seen.
Meet the Little Fin Floatie.
It's similar to the Puddle Jumper in that it has the floatie portion around their arms and waist, but the extra protection is in the vest which goes over their shoulders – eliminating the ability for them to take it off and slide it down themselves.
The fabric is much softer than a Puddle Jumper, and it has an extra button you need to press to unclip the buckle at the back for an additional layer of safety.
And it comes in super cute prints and designs like this leopard one, pink/yellow/aqua design, black and white, light pink, light blue, and blue pattern.
FOR THE WHOLE FAMILY

ThinkBaby/ThinkSport Sunscreen
I think we all have a love-hate relationship with sunscreen – it's clearly a great "tool" to product our family from the damaging effects of the sun, but having to slather it on day-after-day in the summer (+ reapply!), is exhausting to say the least. It takes me 30 minutes to do my 4 kids + myself, and at the end of it, I just want to lie down for a nap, ha!
But when it comes to a product that I'm putting ALL OVER our bodies, I've made sure that I've done my homework when it comes to sunscreen ingredients.
There is still a huge lack of knowledge regarding the toxic ingredients in sunscreen. The Environmental Working Group provides a great comprehensive list of the best sunscreens that not only provide protection from the sun's UV rays, but also contain the safest ingredients.
I strongly urge you to search for the sunscreen you're currently using here, and if it doesn't get a "2" or lower rating, to make a switch.
For me, I've been using Thinkbaby and Thinksport sunscreen since I had kids (and made the switch to non-toxic products). It was the first sunscreen to pass Whole Foods Premium Care requirements and has been top-rated by EWG since its creation in 2010. It checks all the right boxes as far as sun protection and safe ingredients:
Free of biologically harmful chemicals: no avobenzone, oxybenzone, paraben, phthalates, paba, 1,4 dioxane or UV chemical absorbers
Active ingredient is 20% Zinc Oxide (non-nano)
Highest SPF (50+) and water resistance (80 minutes) allowed by the FDA
AND best of all: it applies smoothly, doesn't feel oily or sticky, and won't leave a white residue on your skin. Hurrah!
I've tried many, many of the safe mineral sunscreens, and I always go back to Thinkbaby/Thinksport because I love how easy it applies.
TIP: Thinkbaby and Thinksport Kids' use the exact same active ingredients, the only difference is that they have slightly different scents. We suggest purchasing the one that's the lowest price!

Mosquito/Bug Remedies
I am one of those people that mosquitos LOVE. I can be outside with my husband and he will get zero bites and I will get eaten ALIVE (he jokes that as long as he's with me, he'll never get biten because they just go after me!). My oldest daughter is the same, and she swells up like a balloon with each bite.
So my journey to find some effective bug repellents + after-bite relief has been a lifetime in the making.
A few products I have recently discovered have been completely GAME CHANGING!
First, to keep bugs away, I don't want to have to constantly douse myself and my kids with toxic bug repellent. Instead, I have been using my Essential Oils to make an incredible, completely natural, non-toxic Bug Spray.
In a 2 oz glass spray bottle I add 15 drops each of Peppermint and Lavender from my Starter Kit + 20 drops Citronella + 1TB witch hazel, then fill the rest with water. Smells amazing, and I have found it to be just as effective as the toxic spray with DEET.
No matter how great your bug spray is, however, it's inevitable that bites are going to happen (at least on me!). So when they do, I have a 2-step process that makes them a not-so-big-deal.
First, I always have a Bug Bite Thing handy. It's a simple little device, that you place over your bite, and "pump" it a few times. It essentially sucks out the insect venom/saliva or other irritants left under the skin. Once this irritant has been removed, your body stops producing the reaction that causes you to itch and swell.
I've found it to be extremely effective, especially when you use it right after you get your bite. Hardly any swelling and FAR less itching. And it doesn't just work on mosquitos – bees, wasps, biting flies and more. I buy this 3-pack so I have one at home, one in my purse, and one in my car at all times.
As a bonus – you can use the small side of the suction attachment over a splinter to pull it out from the skin. Makes them far easier to remove, especially from kids!
Second, I again use my Essential Oils to make a DIY After-Bite roller with Frankincense, Peppermint and Lavender. It is CRAZY how effective this combination is – my daughter (the one who I believe is allergic to mosquito bites) reaches for this again and again and far prefers it over the Cortizone anti-histamine cream! And it's just using the power of natural plants.
As you can tell, I love non-toxic, natural products and remedies, and Essential Oils give me those tools. If you'd like to learn more, you can read more about my journey, and the difference they've made in my family's life (let's just say that I now have powerful tools for sleep support, more relaxed bedtimes, tantrums, and more!).
covid-19 edition
When I started thinking about compiling my 2nd edition of my Favorite Finds a few weeks ago, this certainly wasn't the direction I thought I'd be taking.
In such a short period of time we've had to come to terms with a "new normal" – drastic changes like navigating homeschooling, being isolated with social distancing, and trying to track down essential supplies – it's unchartered territory.
So it just didn't feel right to include recommendations with things like beauty supplies or "the best jeans" (I'm certainly not getting out of my sweats these days, are you??).
Instead, I wanted to focus on the things that will help make your life EASIER and HEALTHIER in this moment of time.
All of these Favorite Finds are things that I've personally used and experienced, and get my highest recommendation.
I apologize for the mini-novels I've written on each one…I just want to share the goodness with you, and the passion came pouring out.
HEALTHY HOME
It was actually a goal of mine in 2020 to do a major detox-ing of my home, and I'm more thankful than ever that some of the items I've been using have helped purify our air, reduce toxins in our bodies, and boost our immunities. I truly believe that these products have kept us healthier, and lessened our stress during this crisis.
Although we got our AirDoctors months before the coronavirus crisis, this air purifying device has brought us even more peace of mind in the last several weeks.
We got our first AirDoctor when my husband went to an allergist and confirmed that he was allergic to dust mites. He went on a rampage steam-cleaning our bedroom – comforters, rugs, anything with fibers was deep cleaned. That helped a little, but it was only when we started using the AirDoctor that he noticed a drastic difference in his ears/nose (he'd even been to an ENT doctor with no solutions other than surgery!).
We quickly ordered 2 more – 1 for our main living area, and another for my son's room who also struggles with allergy-related symptoms.
It's crazy to think, but indoor air can be up to 100 times more polluted than outdoor air!
A lot of people don't realize that symptoms like headaches, fatigue, nasal congestion, throat irritation, sleep troubles, and sneezing can be caused by air pollutants hanging out in your house.
And now we're spending so much time inside, I'm so thankful that our AirDoctors are constantly scrubbing our air of almost 100% of particles, contaminants and toxic gasses.
As far as COVID-19 goes, I contacted AirDoctor and they stated that their UltraHEPA filters have been independently tested to capture 100% of airborne particles at 0.003 microns in size (making it 100x more effective than ordinary HEPA filters). Viruses can range in size from 0.004 to 0.15 microns in size (so AirDoctor would capture them all), and according to research from Maryville University, the size of COVID-19 is around 0.125 microns. Big thumbs up!
I will be grabbing one more for our basement (if yours has that musty "basement" smell, this will solve that in a hurry!) and also managed to get you an absolute killer discount:
Get THREE HUNDRED DOLLARS OFF (yes, $300!!) an AirDoctor by using our special link!
​AquaTru​
When I first went to the grocery store to prep our home for a COVID-19 disruption, the thing that shocked me the most was that the bottled water aisle was completely bare. This was BEFORE the toilet paper shortage even began!
I felt such security in knowing that I had my AquaTru in my pantry at home, and I didn't have to buy any bottled water.
​AquaTru is a countertop reverse osmosis water purifier that is certified to create bottled-quality water from your tap water. You simply fill up one side of the device with your tap water (fits about a gallon and is removable for easy fill-ups), and it cleans 75+ different chemicals out of the water, including lead, chlorine, pesticides, glyphosate, copper, nitrates and herbicides.
You then simply place your glass or reusable water bottle under the spout, press the button, and out comes the cleanest, best tasting water you'll ever drink.
So backing up here a little, the reason I initially got my AquaTru is that I discovered my town's water had over 20 contaminants in it, with 7 exceeding the EWG's Health Guidelines, including Radium (16x more than guideline) and Nitrate (10x more).
This is your typical suburban town that I TRUSTED would have higher standards in place to provide us with safer tap water. I suggest checking your town's water too: simply type in your zip code on the EWG Tap Water Database. You might have the same realization I did.
I initially wasn't that worried because our fridge has an integrated filter, but the more research I did, I found that fridge filters (and others like Brita), are NOT purifiers – they are only designed to make water taste better, not necessarily safer. That wasn't OK to me.
I discovered AquaTru because I had seen a lot of the leading healthy-living teachers touting it, then did my own research on the technology behind it.
Now this is a device that is an investment, but to me it was worth the price to provide my family with the best quality drinking water. And now with the coronavirus crisis upon us, it lessens my stress knowing that clean water can always be readily available.
That being said, I arranged a call with the company before including AquaTru in this email and they agreed to give you guys an unbelievable discount: $150 off!!
If interested, use THIS LINK and the $150 will automatically come off at checkout.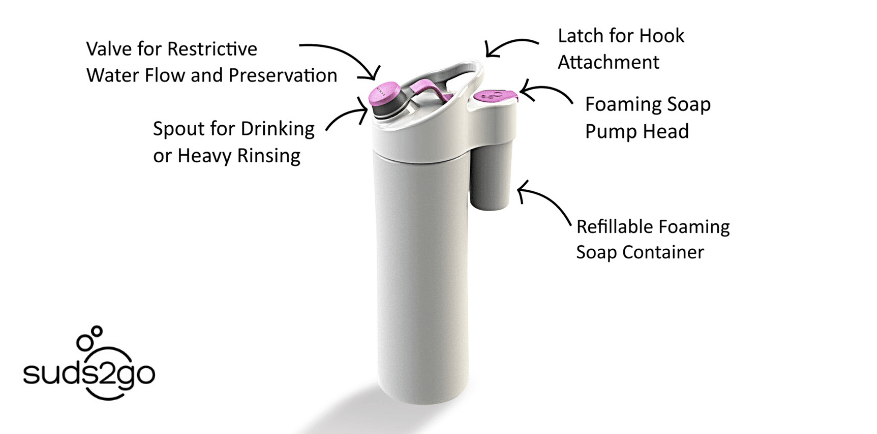 By now I think we're all aware that washing your hands with soap and water is the most surefire way of keeping your hands germ-free. But when you're out and about, this isn't always an option. And with hand sanitizer hard to come by, I've been keeping my Suds2Go in my car so when I finish grocery shopping or pumping gas (the ONLY 2 things I'm doing right now!), I can give my hands a thorough wash before touching anything else.
At first glance, Suds2Go looks like a stainless steel waterbottle (and it certainly can be used that way). The innovation lies in a small attachment which holds foaming soap, that turns it into the world's first mobile handwashing device.
Simply pump the soap onto your hands, lather up (we all know the proper way to do this now!), and then rinse with water from the bottle. It provides you and your kids a way to stay hydrated and keep your hands germ-free wherever you may be.
Before COVID-19 hit, I had replaced the regular water bottle I usually carry with me at all times (for those "I'm sooo thirsty" moments) with Suds2Go, and there were so many times I was very glad to have it with me. Think of going to the playground and wanting to clean off actual dirt or sand from the sandbox before having a snack or getting into the car. Or doing the same at the beach.
It's a life saver now, and the uses will continue once we return to our regularly-scheduled lives.
I reached out to Suds2Go and got all of my subscribers 10% off with this link and code: WHATMOMSLOVE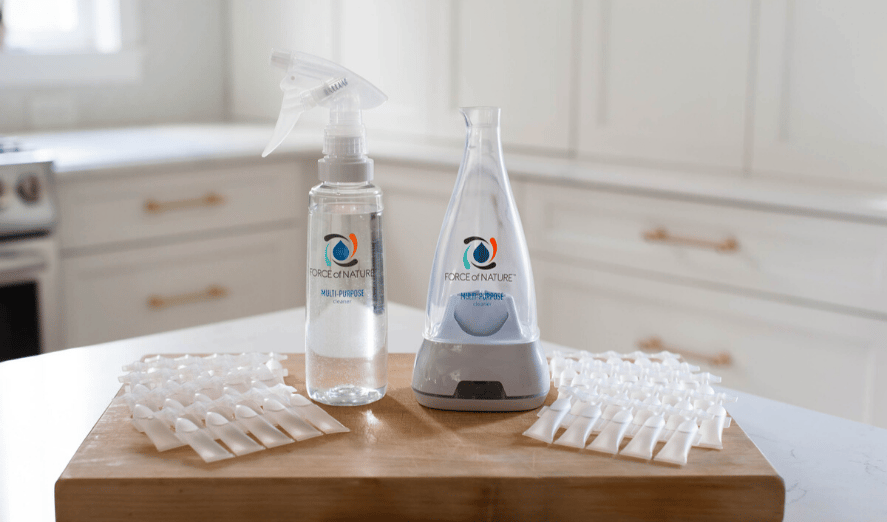 I mentioned this amazing device in my COVID-19 prep email that turns regular tap water + a capsule of salt, water and vinegar into a cleaner and disinfectant as effective as bleach (but much safer for your family). It has been scientifically proven to kill 99.9% of viruses without toxic chemicals, making it safe for your family. You can use it for EVERYTHING: cleaning, hand sanitizing, deodorizing and disinfecting!
I use it for:
daily disinfecting of doorknobs, light switches and countertops
​
deodorizing of kids' stinky shoes and sports equipment
​
disinfecting toys
​
disinfecting sponges, cutting boards, and toothbrushes (works great for pacifiers too if you're in that stage!)
​
deodorizing garbage cans, compost bins and diaper disposals
​
disinfecting/deodorizing car seats, strollers, carpet/rugs, pillows, couch cushions, bean bag chairs, changing pads and more
​
We did a complete review of the system here, and I reached out to the company and they agreed to give our What Moms Love readers an amazing discount (especially at a time where they could jack their prices significantly):
For 50% off & free shipping (wow!!) on Starter Kits click here and use code: WHATMOMSLOVE
For $35 off Value Bundles click here and use code: MOMSLOVE35​
​
Young Living
Honestly, I don't even know where to even start with this…I could write an entire article on how I have completely fallen in love with Essential Oils. And perhaps that's what I should do instead, but I felt so strongly about including it here because these oils are helping me so much through this coronavirus crisis.
I remember seeing a surgence of people on social media talking about Essential Oils, and I was always curious about them, but really had no clue what all the hype was about. After doing a ton of research, and taking the plunge, I can now tell you that I get it. I've now incorporated Young Living into so many different aspects of my life.
Some of my favorite uses include:
Diffusing and rolling-on "Thieves", a natural way to boost your immunity (before using oils I'd get 2-3+ colds every winter…this winter I got ZERO, and feel like my immune system is as strong as ever – SO important right now)
​
Bed time calming – I do a quick roll of Lavender on my kids' wrists and spine + diffuse "Sleepize" in my kids' rooms; they are more relaxed and fall asleep SO much faster.
​
Using my "Deep Relief" roller on my temples to alleviate headaches (getting plenty these days as I'm staying up even later planning homeschool work)
​
Rolling on Digize on my stomach for any upset moments or period bloating/cramping – seriously magically!
​
Using a Face Serum every night with Frankicense (amazing on fine lines) and Tea Tree Oil (the only thing that has EVER worked on my cystic acne)
​
Rolling on "Stress Away" or "Peace and Calming" to stay centered during our crazy homeschooling days
+ a zillion more.
I would love to share more of my journey with you, so if you're interested in learning more about Essential Oils, please CLICK HERE.
SANITY SAVERS
​
If you haven't heard of the Time Timer before, it is an ingenious tool that visually shows your child how much time they have left for a certain task.
I have several of them throughout my house (they come in a variety of sizes and colors from the compact 3″ to a large 12″), and we use them multiple times every day – now more than ever with homeschooling in the mix.
You simply set the Time Timer for a certain number of minutes, and the time they have left is shown in red. As time elapses, the red section gets smaller and smaller. Your child doesn't need to know how to read a clock in order to understand this visual concept of time diminishing. It even beeps when time is up.
Some examples of how I use it include, setting a timer for:
screen time limits
​
taking turns with siblings ("you can play with the toy first, but when the Time Timer is up, your sister can have it")
​
bedtime routine ("can you brush your teeth, put on your pajamas and get into bed before the Time Timer is up?")
​
clean-up time (set the Time Timer for 5-10 minutes while everyone runs around and picks up toys)
​
silent reading time
​
getting out the door ("I'm setting the Time Timer for 5 minutes, let's see if we can all be out the door before it goes off")
​
independent time management for older kids
Could you set a timer on your phone for these?
Of course.
But a.) they'd need to hijack your phone, and b.) they can't visually see how much time they have left, which is the key to their understanding.
I'm telling you, this thing is MAGIC.
​
​Breathe Like A Bear: 30 Mindful Moments For Kids To Feel Calm & Relaxed Anytime, Anywhere​
This is an uncertain time for everyone – our old schedules and routines were abruptly stopped, and drastically new ones were quickly put in their place. We're all a little on edge, more stressed, and our kids can easily pick up on these feelings. In short, there is no better time to teach your kids the power of mindfulness.
​This book does just that, and delivers the power of mindfulness to kids in an extremely engaging and fun way – teaching them techniques for managing their bodies, breath and emotions. Each exercise only lasts a few minutes (great for short attention spans), but they're simple to follow, and don't require any sort of equipment.
I use Breathe Like A Bear every day with my own kids – both at bedtime to wind down for the night, and now that we're homeschooling, as little brain-breaks throughout the day. They are extremely peaceful activities that incorporate breathing and small movements, and I've seen first-hand how they can turn a riled-up 5 and 7-year old acting like a couple "crazies" into calm and focused little people.
My kids now ask for their favorites by name, and if they ever get worked up or anxious, I can guide them through the exercise without the book on hand. We all find peace in knowing that we have a method to find calm when needed, especially in these uncertain times.
​The book is beautifully illustrated, and secretly, it is helping me too!
HAPPY KIDS
I've been front-loading our homeschool schedule so by the time lunch rolls around, the big kids are usually done with most of their work. That still leaves 6+ hours for them to play and be kids…which is great, until the "I'm boooreds" start.
As we are constantly testing toys/games for our Gift Guides, I have a lot of first-hand experience on products that will help keep your kids engaged and entertained during those non-school hours. I've chosen a couple of my favorites that I think could help your family too.
​Kiwi Co.​
If you asked me "I only want to get 1 subscription box for my kids, what should I get?". Without hesitation, my answer would be: Kiwi Co.! And now is the absolute perfect time to get your first "crate".
My kids absolutely LOVE when their crates arrive, and at a time like this when I'm struggling to keep them engaged with out-of-the-box activities, Kiwi Co. showing up can give this "teacher" a ready-to-go art, science and engineering class!
In the past, my kids have built fun things like a pin-ball machine (that they then played with for hours), designed musical instruments and made stunning stained glass.
​KiwiCo's mission is to make STEAM accessible, engaging and fun – inspiring kids to see themselves as scientists, artists, creators and makers. They offer 8 different subscription boxes based on your child's age and stage (from newborn to 16+) and they are all extremely high-quality, beautifully designed and thoughtfully crafted to stimulate your child's passions.
If I could give it more than 2 thumbs up, I wouldn't hesitate!
​KiwiCo is very flexible and allows you to switch which crate your child receives at any time. Subscriptions are available on a month-to-month, 3‑month, 6‑month or 12-month basis.
Right now, get 15% off your subscription to Kiwi Co with code LEARN
​
Incorporating movement breaks into our new homeschool schedule is an absolutely MUST, and if you have kids who need to blow off some steam – Magic Moves is EVERYTHING!
This microphone-looking device will get your kids running, jumping and slithering around with a simple press of a button. The interactive wand includes 90 fun and creative commands like "run like a cheetah", "float like a butterfly" or "slither like a snake".
We use it inside and outside for a quick "recess". I love that all of my kids can play at the same time, and it helps them get their energy out in a fun (and non-destructive!) way.
If you're looking for more recommendations for products that will help your kids release that pent-up energy, check out our Best Indoor Gross Motor Toys For Active Kids (To Get That Energy Out!)​
Or if you have an outdoor space, these amazing outdoor swings and hideouts would be such a blessing now that the weather is warming up.
​Osmo​
We usually have pretty strict screen-time rules in my house, but those all went out the door once school was canceled for 6+ weeks. Now we're in survive-and-try-to-thrive mode, so screens are being used a lot more, but I'm still trying to utilize them for "Learning Tech Time".
We've had the Osmo system since it's inception, and it has revolutionized the way kids can use their iPads. Instead of just being disconnected-spectator-zombies in front of a screen, Osmo turns them into engaged participants who are thinking, learning and using their imagination with dynamic hands-on play.
The set-up is simple: just download the app, place an iPad, iPhone or Amazon Fire device in the base, and clip on the reflector. Then your kids are ready to use the Osmo game pieces or drawing board to start interacting with the screen.
Kids can learn to Code with the help of a cute strawberry-loving monster, practice their Spelling and Math, unleash their creativity and have their drawings magically come to life, run a Pizza parlor working with money, fractions and profit, and unleash their brain power with numerous other games.
While my kids often get bored with other learning apps, Osmo keeps them thoroughly entertained, and at least one of my kids uses it daily. To me it's a worthwhile investment for quiet time where learning and creativity is happening!
If you're like me and have a toddler who you have to entertain while trying to keep big kids on their homeschool tasks (or just a toddler to keep busy!), I have a magical solution.
I got this amazing sink for my just-turned-2-year-old daughter for Christmas, and months later she will still sit and play with it for over an hour every day.
The water recirculates and it includes mini dishes/cups to wash. Everyday I'll throw in a different set of small plastic animals or character figures (think Peppa Pig, Paw Patrol, zoo animals, etc) and she goes nuts for it! I set it-up after breakfast so she's occupied while I take my other 3 kids through their morning tasks. It's been a complete life saver!
​These solid tempura painting sticks are nothing short of genius, allowing your kids to paint without any set-up or mess involved. And let's face it, our lives are messy enough right now – getting out the real paints and the subsequent clean-up is an ever bigger job than usual.
To use, just twist up the Stix and use it as your paintbrush – the colors come out bold and smooth and dry almost instantly. No more brushes to clean, and they can be used on paper, cardboard or even wood. We tested a few spots on clothing and it washed right out. Check out the thin version for older kids. Everyone goes crazy for these!
​My Very Own House – Cardboard Coloring Playhouses​
​This cardboard playhouse has been a total hit at my house, and has all 4 of my kids occupied and playing nicely together…complete miracle! After some help with assembly, your kids can color and doodle away for hours upon hours, decorating it to their hearts-content.
It doubles as a fun playhouse with interactive features like a mailbox slot, and open/close windows.
It comes with 8 washable markers, but you could use any marker, colored pencil or crayon that you'd like (the Kwik Stix I mentioned above are also fantastic for covering larger areas).
---
Thank you so much for sticking with me – I hope you found something here that will help make this current situation a little healthier or more sane!
January/February Favorites
BEAUTY
As we're in the dead of winter, I thought it would be pretty fitting to share my most favorite self tanner of all time.
I have super pale skin so I stayed away from any sort of tanning lotion for a very long time, assuming that it would make me look like an Oompa Loompa. But last year before I went on February vacation (where I had to trade my winter layers for a bathing suit), I decided I had to give it a try.
First, I did A LOT of research to find one that wasn't full of harmful toxins.The skin is our largest organ, and as you're essentially covering almost every bit of it with self tanner, I wanted to make sure I wasn't serving myself a chemical cocktail each time I used it. Through my research I landed on a couple of different brands, and tried them all. The winner by a long shot, was the Beauty by Earth Organic Self Tanner. It scores a "1" on the EWG's scale ("1" being the best), and it gave me the more gorgeous, natural-looking tan.
What's great about this product is that the cream is white, so it won't stain your pillow or sheets, it's easy to apply (wash your hands right after and they won't turn orange), and it's a buildable tan – so if you want to keep going darker, just reapply the next day.
They also have one specifically for your face, but I use the regular Self-Tanner all over with no issues. Seriously, give it a try – I can not imagine anyone being unhappy with the results!
I put this on my Christmas list this year and didn't think a pillowcase could bring so much joy – but after using it for over a month, I can tell you…it can!
I noticed a while ago that every time I woke up, one of the lines (yes, that's a nice way of saying "wrinkles") in between my eyes (I believe the "technical" term for those are number 11's) was much more pronounced than the other. It took me a while to realize that it was because I mainly sleep on that side of my face, which was causing the extra creasing.
Sleeping was causing me wrinkles – crazy, right?!
But would you believe that using this Slip Pillowcase, it no longer happens?! I mean, it didn't make the wrinkles disappear, but it doesn't make them any worse – which at my age, I will gladly accept!
Apparently it's because the silk allows your skin to glide across the pillow, thereby reducing the friction and pressure on your face. As an added benefit, it also has the same effect on your hair, and I've noticed that I have more volume and less tangles in the morning than before.
It also just feels ah-mazing on your skin. This sounds completely ridiculous to say, but it's honestly such a treat to lay on! I never want to go back to my scratchy cotton pillow again.
​The Slip comes in a variety of colors and 2 sizes (the "Queen" size is just your standard pillow case size, and "King") and can be washed on a delicate cycle in the washing machine. I just hang it to dry but reviews say you can put it in the dryer. I'm just not brave enough to try as I don't want to spend one night without my face plastered all over this dream pillow.
It isn't super cheap, but this is your face we're talking about!
And be warned – I loved it so much, I wanted to get another so I could swap them out during washing, and I fell into the trap of getting a cheaper, copycat one on Amazon. At first I thought I had discovered a great deal, but after using it for just a week, the fabric was pulling apart and it was pretty much ruined in the washing machine. So lesson learned, some things are worth paying for.
KIDS
We have tested countless games for our Best Board Games for Kids & Families Gift Guide, and after getting my son this Monopoly Deal card game for Christmas, I have a new winner to add.
My son LOVES Monopoly – it's the game he always asks to play…but I'm sure you know the problem there, right? It can take HOURS, so games get started but rarely finished. So when I saw that Monopoly Deal could be played in just 15 minutes, I knew it was worth a try.
After a few rounds of getting our feet wet with the rules, we (my husband, 9-year old son, 7-year old daughter and I) were completely hooked. It's fast-paced fun that still involves collecting properties, while adding in a fun element of stealing and swapping from other players. It's exciting fun, and can indeed be played in 15 minutes (although some games lasted in the 20-30 range, it's still an improvement over 2-3 HOURS!).
Best yet, it's currently on sale for under $5 on Amazon!
My sister-in-law gifted one of these beautiful, interactive The Story Orchestra books to my almost 2-year old (knowing that she already had pretty much every hand-me-down toy imaginable!), and now Baby G won't let me read anything else to her.
There are 4 different books, "Sleeping Beauty", "Swan Lake", "The Nutcracker" and "Four Seasons in One Day" which all feature stunning illustrations and a retelling of the classic ballet stories. But the unique element is that on each page you can press a button to hear the sound of an orchestra playing Tchaikovsky's or Vivaldi's music that corresponds with that scene. They are truly magical, and my other girls are equally enthralled.
Great for a special gift, or just to liven up your current book selection.
I am totally obsessed with this mom-run company, that makes the most magical sensory playdough kits. Each kit has its own theme (a few of my favorites include "ice cream", "fairy", "construction" and "pirate"), and comes with 3 balls of homemade, non-toxic playdough, and the most amazing little accessories. I love how it gives your child an invitation to play and create, and lets their imaginations go to work.
I got my 4-year old daughter the Unicorn kit for Christmas and it is BY FAR the gift that she has played with the most. In fact, all 3 of my girls (7-year old + almost 2 year old) play with it together, and gives me the most magical moments of quiet time.
And the kits come in a great plastic container that makes clean-up and storage super easy.
I scooped up the "Ice Cream" and "Candy" kits for my younger girls' March birthdays and I can't wait to see their little faces light up when they open them (and the subsequent quiet play!).
FOOD
​These are my new obsession. I still can not believe that they are only made from one ingredient: organic apples. That's it! Nothing added. Just baked apples that form crispy, sweet chips. I was highly skeptical, but grabbed a bag when I saw them on sale at my local Costco and decided to give them a try. So glad I did!
My kids like them too (anything in chip form has a much higher probability of getting eaten), and although nothing can beat a fresh apple, they are perfect for a quick on-the-go nibble.
HOME
When we completed our kitchen renovation in August, I just couldn't bring myself to rehang my old white-board family calendar I'd been using for years. It just didn't fit with the new, modern space, and it was starting to look pretty beat-up with many of the black calendar lines wearing off.
So I went searching for a different solution, and was blown away when I stumbled across Girl Friday Acrylic Calendars on Etsy. They were just what I was looking for: modern and minimal, yet super functional.
They come in many different styles and sizes, but this is the one I ultimately went with. Again, I saved my personal review to my Instagram Stories "Favorites" Highlight if you want to take a peek.
I love that the black lines are printed on the back of the acrylic, so they will never come off, and you can chose the metal color for the little brackets that hold it off the wall.
I use these chalk markers to color coordinate everyone's schedule, and stuck this little acrylic container from the Container Store onto the bottom corner to hold the markers so they're easily accessible.
It's one of the things people comment on the most out of our whole reno!
GADGETS
I shared this genius little gadget on my Instagram stories a few weeks ago (also saved in my "Favorites" highlight if you want to see it in action), and the response was crazy! I'm completely ready to throw out my matches and traditional flame lighter, because this Flameless USB Lighter is a bazillion times smarter.
I won't pretend that I know the science of how it produces the flameless light, but because there's no actual flame, it's wind proof, moisture proof and great for lighting things vertically or at an angle.
Have you ever tried lighting the candles on your child's birthday cake at an outdoor party when the wind keeps blowing out your match? Or when you go to light a candle in a tall votive and have the flame shoot up at your hand? Gone camping and can't light your fire because you have damp matches? With this little device, these things CAN'T happen! It's small and slim, and not only great for candles, but camping, BBQs, lighting your fireplace pilot light and more.
You simply use any USB cord to charge it, flip the on/off switch, then slide up the main button to ignite the "flame". Couldn't be easier. Mine is tucked away in my "junk" drawer, but I assure you, it's a far cry from being a piece of junk.
MORE!
OK, totally not a glamourous item by any means, but one day you will thank me for encouraging you to buy these Sick Bags. I swear, kids can be feeling fine one moment, and the next thing you know they spring "mooom, I don't feel so good" on you and you're left in a panic searching for any sort of plastic bag or container. And after you've had a kid throw up all over your car, you'll gladly shell out a few bucks to have one of these disposable Sick Bags at-the-ready.
l keep one in my handbag, plus a few in my car. The ring at the top makes it easy for kids to hold over their mouth, and they're quick and easy to close to contain the mess.
And if you're pregnant with morning sickness, these are a MUST!
Aly will be back next month to share more of her favorites, so stay tuned!